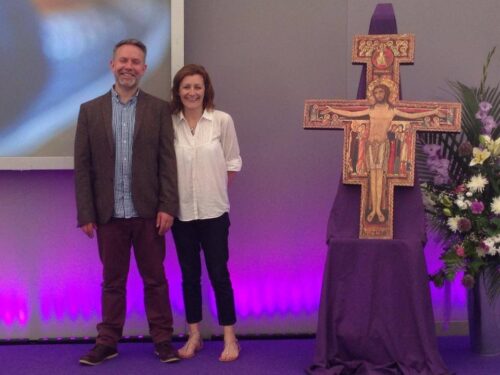 Leading by the Light of Faith
The Diocese of Birmingham Catholic Leadership Conference.
On 4th July 2014 Dan Callow and his team for the day, Yvonne Stanley, David Hannett and Angela Moran were at Oscott College. They filled a wonderful marquee fit for the most splendid of weddings full of song, signing and sharing.
OneLife Music were the third speakers in what was a truly inspirational day. Taking the theme for the day 'Leading by the light of Faith' they were able to share their music, their enthusiasm and experience of working with schools in the diocese.
Dan Callow's 'The Soul of Christ' was the opening song, sung to the 250 or so Catholic Leaders. Adapted from the Anima Christi, this ancient prayer was the structure for the hour long session by using lines in the prayer as reflections of faith. Accompanied by some wonderful pictures of past workshops; the team were able to share their visions, depth of faith and talents to the conference. Following on from the opening song, Yvonne had the conference both signing and singing to 'Family of Faith' sharing the benefits of signing in a liturgical setting and in turn passing on the faith… 'faith is a gift that you've gotta pass on'. It was also an opportunity for the heads of Catholic life to share their musical skills with us and they did!!
Matthew 16:18 'Jesus tells Peter, "You are Peter, and on this rock I will build my Church."'
'We are the Rock' was also echoed through the marquee with David reminding us that like St. Peter we to must allow the passion of Christ to enter us wholly and be a rock for our church. The session was brought to a close giving thanks to God with the team singing Mike Stanley's 'You Alone'
The day ended with the team leading the music for the closing Mass celebrated by Archbishop Longley. Where much of the music sung and learnt in the afternoon session was put to good use, including Dan's Mass setting 'The Children's Mass' and we were delighted that His Gracemade particular reference to 'The soul of Christ'.