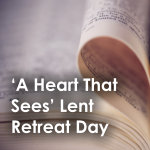 New Retreat Day – A Heart That Sees
We are pleased to release this new retreat for the new year, starting in February 2018.
This retreat day 'A Heart That Sees' calls for us in this wonderful period to point our hearts to God and towards hope for the resurrection. With opportunity for prayer, giving and acting on our beliefs and marking this 40-day period through music, sharing and offerings. Our retreats will begin on Ash Wednesday the 14th February 2018 and run through Lent.
Please contact us for availability and to discuss how we can share with your school.