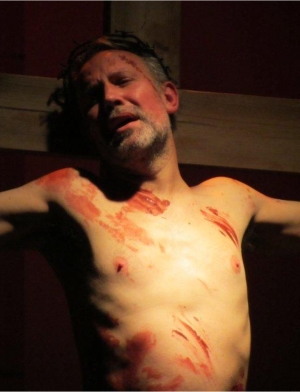 Compton Hospice Choir's Jesus Christ Superstar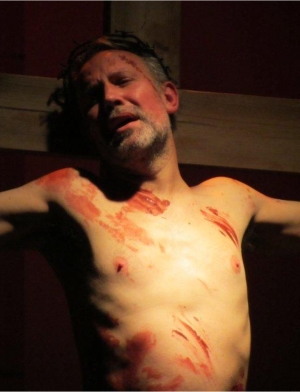 'Outstanding' … 'brilliant' … 'stunning' … 'emotional' … 'worthy of any West End stage' … 'truly exceptional'… just a few of the accolades made about Compton Hospice Choir's production of 'Jesus Christ Superstar'.
After months of hard work, the Choir shone as never before. In four performances from 18th to 21st February, they amazed and wowed the capacity audience each evening with a spectacular, colourful presentation of this musical by Andrew Lloyd-Webber and Tim Rice. Written and performed originally in 1971, the powerful message of this production is undiminished, and the Choir were able to present it in a way which moved many to tears.
Talented performers Dan Callow (as Jesus), Eileen Woolley (as Judas) and Caroline Painter (as Mary Magdalene) excelled in song and drama as they portrayed the three main characters in the story. Roger Wilcox had the audience spellbound with his passionate portrayal of Pilate, while Jerry Hobbs exchanged his 'hat' as Vice-Chair of the Compton Hospice Board of Trustees to produce a vibrant, colourful rendition of 'Herod's Song'.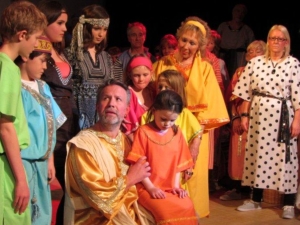 Other key characters Caiaphas (Peter Nickholds), Annas (George Carter), Temple Priests (Bryan Smith and Tony Nicholls), Simon Zealots (Paul Sharp), and Peter (Patrick McDonough) all played their roles with zeal and enthusiasm.
Lepers and beggars doubled up as dancing girls and 'soul singers' – as the 'crippled and lame' were transformed to energetic, vibrant characters that had the audience swaying in their seats. No-one was without a part in this – the wider ensemble, in family groups, were at times passionate and exuberant, at times tender and pensive – all the time creating the backdrop for the drama to unfold.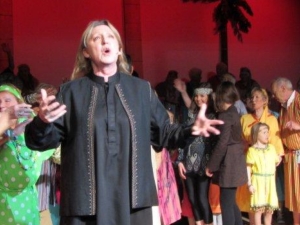 The opposing emotions displayed in the angry struggles of the Temple scene, contrasting with the immensely moving horror of witnessing the Crucifixion, were matched only by the incredible fickleness of the crowd – portrayed in their adulation on Palm Sunday changing to their hatred as a baying mob screaming for the death of Jesus. There were no passive bystanders in the cast; everyone – from the youngest child of 6 to the most senior member of the Choir (80 something!) – entered in with energy, passion and commitment, making this a wonderful show.
Director Barry Smart (who is the Hospice Chaplain), supported by Mike Sullivan (musical arrangements and keyboards) has again succeeded in producing a brilliant show. The united team, drawn from Hospice staff, volunteers, families and friends,include not only the cast but also the many 'behind the scenes' workers and helpers – too many to mention, but without whom the production could not have happened. Most importantly, the benefits to Compton Hospice are enormous and the outcome of this very much benefits the patients we have the privilege of caring for.