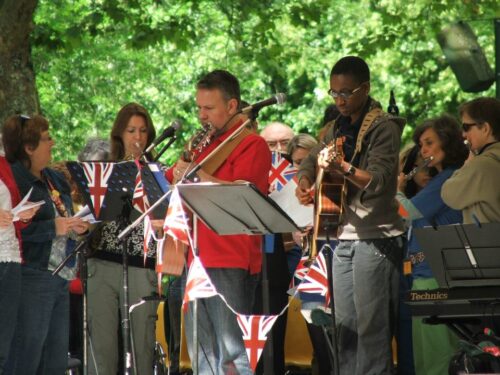 Birmingham Pilgimage to Lourdes 2012
This year I was fortunate enough to be part of the music liturgy team for the Birmingham pilgrimage to Lourdes along with Jo Boyce and Andy Ross which was a truly moving and humbling experience.The trip began on Saturday 2nd June at Birmingham Airport loading and weighing our guitars, keyboard, amplifiers and equipment into baggage handling for the flight, before settling down for our journey to France.
Our liturgy work began on the Sunday morning, when we led the music for the opening mass, the first opportunity for the approximately 700 Birmingham pilgrims to come together. The week continued with the same blend of spirit, energy and blessings, where we led the music for further masses and services. These included an outdoor podium mass for the Birmingham, Middlesborough and Ireland dioceses on the day of the Queens Jubilee, finishing with the National Anthem, led for us by Tony Socci on his trumpet in his Policeman band uniform, for a spiritually moving Holy hour, a penitential service and an amazing torch light possession for all Lourdes Pilgrims to name just a few.
Amongst many truly wonderful experience my highlights were to have been able to sing two new songs written by Mike Stanley for the pilgrimage: 'Song of healing' during the Holy Hour service on Monday and 'Lord, we confess' to quite a few thousand pilgrims during the Blessed Sacrament possession. A true privilege!
Lourdes is a truly special place that blesses individuals in many different and personal ways and to have been a part of the power of Lourdes and those blessings was a blessing in itself.